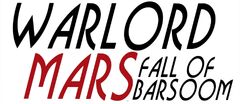 Warlord of Mars: Fall of Barsoom is a comic series by Dynamite Entertainment, it is a spinoff of Dynamite's hit Warlord of Mars. The series takes place ten thousand years before the other series in Warlord's continuity. It focuses on a scientist working to prevent the death of the planet Mars and the struggle by the Orovars to find a way to survive. It will also show the rise of the Red and Green Martians. Its first issue was released July 27, 2011.
Release Date: July 27, 2011
Release Date: August 31, 2011
Release Date: October 12, 2011
Release Date: November 30, 2011
Release Date: January 25, 2012
External Links
Edit
Community content is available under
CC-BY-SA
unless otherwise noted.