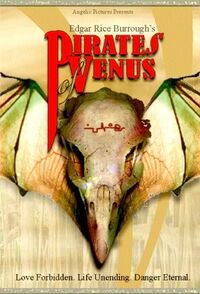 The upcoming movie from angelic pictures based on the novel pirates of venus.
The official synopsis on the main site is
After the carnage of World War 1, flying Ace Carson Napier had given up on life and the "civilized" world. At the lowest point in his life, Carson's fortune changes as he inherits the expansive estate of his lost Grandfather. Fate leads him to decide if he should risk his life and follow his Grandfather to a distant world aboard an aged craft built by the old Man. A beautiful alien princess in need of his help gives him a new purpose in life within the dense jungles of Venus.
Pirates of Venus is book one of the five book "Venus" series written by Edgar Rice Burroughs and is presented with the same flair for adventure, excitement and imagination as of his best seller "Tarzan."
Community content is available under
CC-BY-SA
unless otherwise noted.