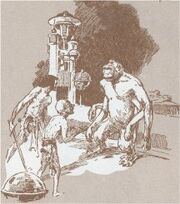 Hovan Du was the victim of one of Ras Thavas' more ethically questionable experiments. Originally a normal red man from the kingdom of Ptarth, half of his brain was exchanged with half of the brain of a white ape. As a result of the experiment, his human body behaved in a more ape-like fashion, while his ape-like body behaved more like a human. After Ras Thavas had made his observations, he returned both the ape and the man to the medically-induced coma in which they had previously lingered.

Some months later, Hovan Du was granted his freedom by Thavas' assistant, Vad Varo, who sought Hovan's aid in re-acquiring the body of Valla Dia, which had been stolen by the hag Xaxa.
Once they had succeeded Vad Varo reunited the two halves of Hovan Du's brain in his human skull. The restored Red Man seems to have settled in Phundahl with his companions Dar Tarus, the new Jeddak, and Gor Hajus.
Community content is available under
CC-BY-SA
unless otherwise noted.