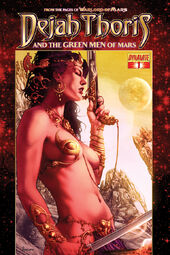 A twelve-part miniseries, that is part of Dynamite Comics overall
Warlord of Mars
series. The story is written by Mark Rahner, and the artwork done by Lui Antonio.
Deadly appetites for power -- and flesh -- threaten the life of Dejah Thoris, the proud princess of distant Mars! Intent on shattering the fragile peace between her red-skinned people and his green-skinned species, the brutal Voro kidnaps Dejah away to his underground hideaway. But it's not a ransom from her lover John Carter that this rogue Thark is after. Voro is a butcher by trade, and for the Green Men who never lost their taste for red meat, the flesh of Heliumite women is always in demand. Unless she can break free from his slaughterhouse, the incomparable Dejah Thoris will become the rarest of delicacies!
Release Date:
Release Date:
Release Date:
Release Date:
External Links
Edit
Community content is available under
CC-BY-SA
unless otherwise noted.