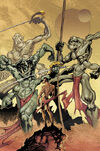 A Princess of Mars is a now canceled mini-series that was being produced by IDW with an intended release in august of 2006, based on Edgar Rice Burroughs A Princess of Mars. Supposedly the first half of the first issue was complete when the comic was canceled, the series was intended to run for exactly five issues. The comic was to be written by Dan Taylor, with art by Ted McKeever (colors by Chris Chuckry) and covers by Frank Cho (variant covers for the first three issues), and Mark Wheatly (variants for last two issues). Unfortunately none of this came to fruition.
partially done pages
Edit
External Links
Edit
Community content is available under
CC-BY-SA
unless otherwise noted.